Service Terms Definitions
Full description for each term.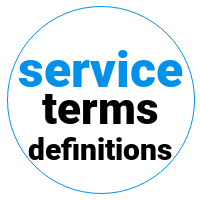 Educational consultancy = the procedure of offering all the information needed in order to apply to Medical Colleges in Romania, as well as assistance during the whole submission of the file, according to each Medical College Methodology. You will be guided with responsibility throughout the entire procedure, receive advice and support regarding whatsoever questions or concerns you may have. Our consultants are skilled in identifying and solving possible problems and brainstorming potential solutions, while being attentive to details and full oriented towards your needs. From the experience of the previous years, we have gained full knowledge regarding the admission procedure and we can cover all the situations that you will have to deal with. Our main purpose is for you to find and apply to the medical college that best suits you and is in your interest zone, making the whole process smoother and easier.
 Legal advice = represents granting of the professional or formal opinion regarding the substance or procedure for the admission to Romanian medical colleges.
 Translations & Notary Legalization = An authorized translation refers to a translated document certified by an authorized translator, indicating that the translation is legally valid to the same extent as the original document.
A legalized translation indicates that one certain text or document was translated by an authorized translator by the Romanian Ministry of Justice, document which is stamped and signed first by the translator and afterwards the notary public legalizes the translator's signature and stamp based on a signature specimen in accordance with Art.12, letter "j" of Law no.36/1995 with subsequent amendments and additions.
Extra copies of translations (legalizations) = the document already translated and prepared for legalization will be once more printed and signed by the translator in order to be legalized at the notary public.
Certified copies = A certified copy is a copy (often a photocopy) of a primary document that has on it an endorsement or certificate that it is a true copy of the primary document. It does not certify that the primary document is genuine, only that it is a true copy of the primary document.  In order to be able to certify copies of foreign documents by Romanian notaries, prior to legalization, they need to be targeted by a translator authorized by the Ministry of Justice by applying the translator's signature and stamp. Subsequently copies of these foreign documents can be certified by public notaries.
Document Scan Services = digital transformation and scanning service converts bulky paper documents into a convenient, space-saving electronic archive. Our document-management software then lets you retrieve files in seconds from your personal account or email address.
Free Account = studyinro.ro offers you the possibility to access all your documents and information relevant to the contracted services. You simply need to log in with your email address and a password that we will provide for you (you need to change it after you access your account the first time). On the dashboard section you will easily access your contracted services, downloads, admission and post-graduate plans and all the information regarding the invoices, billing or shipping addresses.
 Downloads (Methodology & Forms) = in the Download section you can easily access the Methodology document for the college/-s that you want to apply to, as well as the Forms that you need to fill in for the Ministry of Education and for the Medical College. They are within reach, without you having to search for them.
 Free File Storing (Translations) =  stores all your translated documents. The data is saved in files and folders and can be accessed from your private account.
 AFM (Admission File Management) = preparing the whole file according to the Medical College Methodology, before it is sent to the University. All required documents will be marked and double checked before handing/sending the originals, making sure that everything is complete and accordingly.
FS (File Submission) = handing the application file to the University. This procedure offers you two options which you can choose from: sending the originals via a fast courier or personally handing the documents to UMF Tirgu Mures and UMF Cluj.
UFS (University File Submission) = personally handing in the file application to the Foreign Students Department of UMF Tirgu Mures and UMF Cluj.  
WWD (World Wide Delivery) = describes the process of shipping the original translated documents from Romania to an indicated address.